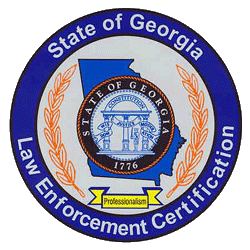 The Senoia Police Department achieved State of Georgia Law Enforcement Certification in December of 2013. The State Certification Program, administered by the Georgia Association of Chiefs of Police, establishes professional standards for which each certified agency must demonstrate compliance. Standards cover a wide array of subject matter. By meeting these standards, the Police Department must analyze in detail both internal and external operations. Meeting standards enables the Police Department to provide the highest professional service to the City of Senoia.
Experienced law enforcement professionals from outside agencies inspected the department's facilities, examined policies and procedures, and audited files built for each certification standard to verify compliance. These specially trained assessors found the Senoia Police Department to meet or exceed all standards of the State Certification Program.
State Certification is not a one time process. The department will be reassessed every three years to ensure continued compliance.
The Senoia Police Department is the 109th Police Department in the State of Georgia to obtain this prestigious certification.
About Us:
The City of Senoia Police Department handles any activity within the Senoia city limits. Under the direction of Chief Jason Edens, the Senoia Police Department covers approximately a 6.1 square mile area to provide around-the-clock public safety to approximately 5,500 residents and thousands of tourists.
The department is located at 505 Howard Road. The department consists of 18 sworn officers and 3 civilian employees. The department offers a full range of policing services, including preventive patrol, traffic enforcement, criminal investigations, crime prevention, and drug prevention.
The department operates under the community policing concept, which stresses involvement with the community, and placing resources where they are most needed. It also stresses trying to remove the root causes of crime and neighborhood deterioration. The department is structured into sections: Office of the Chief; Administrative Services Division; Field Operations Division and the Support Services Division.
The primary division of the department is the Field Operations Division. The Field Operations Division consists of patrol and K-9, which are responsible for preventive patrol, traffic enforcement, and response to calls for service. The Field Operations Division is divided into four shifts so that protection is provided 24 hours per day, 7 days per week. Officers typically work a 42-hour workweek, counting time spent writing reports and attending the various courts in which their cases are presented.
The Support Services Division consists of the Criminal Investigations Division and the School Resource Officer Program. There are two investigators assigned to the Criminal Investigations Division, which are responsible for in-depth investigations of crimes in order to build successful cases for prosecution. The investigators work closely with the District Attorney's staff and Investigators from the Georgia Bureau of Investigation, Federal Bureau of Investigation, and the Coweta County Sheriff's Office. There is currently one officer assigned to the Coweta County Charter Academy as a School Resource Officer.